The Friends of Algonquin Park Bookstore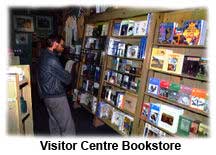 Ontario's Provincial Emergency and Stay-at-Home Order: Online orders are currently being fulfilled and shipped. When you place your order, your credit card will not be charged until your order is mailed. Telephone orders and curbside pickup at the Algonquin Park Visitor Centre is available Monday to Friday, 9:00am to 4:00pm, by calling 613 637-2828. We thank you for your support of our charitable work! For more information see COVID-19 Updates.

The Friends of Algonquin Park operate two excellent bookstores - one at the Algonquin Visitor Centre and another at the Algonquin Logging Museum.
These bookstores carry a wide variety of books and products in all areas of natural and human history. The Friends also publish many books and maps specifically about Algonquin's natural and human history. These Park specific publications are available via mail order, e-mail or at The Friends of Algonquin Park Bookstores. Many are also available at the West Gate, East Gate, and most Backcountry Access Point Offices.
Revenue from the sale of these products is used to support Algonquin Park! Learn More>
Bestsellers & Specials